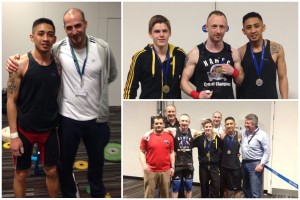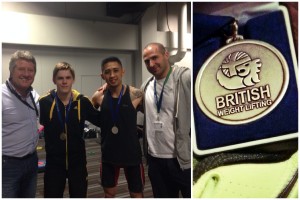 One of the better-organised BWL championships at the Ricoh Arena gave us all a lot to talk about this weekend. Nerve-wracking and exciting pretty much sums up the experience for Seth's participation in his first British championships.
Almost a year into training and a diet later, Seth took the first lift for the Men's 56kg category (and all men's groups of the day) but nerves kicked in and he missed it as well as the second attempt. While I was covering my eyes, I heard the crowd roar at his last attempt- 70kg snatch in the bag. Quick celebrations and a deep breath (for me- Seth was still shaking) and onto the clean and jerk with a first successful attempt at 85kg. Second lift beautifully executed at 90kg. A conservative 92kg third lift proved just a bit too much for such an emotional day but the silver was won with a total of 160kg.
I can't tell you how impressed I am with his performance and I know, buddy, that you wanted to and could do so much more but a competition is such a stressful environment. Lifting in the gym is so much different to lifting in a competition and no amount of training can prepare anyone for the big stage. The more someone competes, the better they get in performing well on the day. I am looking forward to next year when experience will give a little extra special push. And the platform will not look like a disco!
Congratulations to all competitors for a great weekend! Here's a short video of some of the athletes warming up in the training room (not enough space on my mobile to film everyone) and some of Seth's lifts.