Browsing articles in "Blog"
A great performance from all my lifters at the Southern Masters (over 35) 2014 at the Bethnal Green Weightlifting Club.
Lloyd rocked his first competition with 80kg in the snatch and 90kg in the c&j and Matt R competed as a guest, to qualify for the English Championships 2015, with an impressive 118kg snatch and 141kg c&j (best competition total). Well done, boys!
I am very proud of my client, Kaye, who after facing back problems for several years and undergoing 2 lower-back operations, is now enjoying the benefits of weightlifting. Just over a year of training has led to a strong, confident Kaye smashing her first competition with a 37kg PB snatch and a 40kg c&j. Amazing results – congratulations, Kaye!
Last week, I visited my friends in Pordenone, Italy who train under Master Coach Dino Marcuz and technical director Luigi Grando, and took some videos of all the athletes training but for the moment will focus on this 16 year-old young chap. Mirko Zanni has done it again! After his success at the U17 European Championships 2014, Mirko took home the bronze at the Youth Olympics, Nanjing 2014 in the 62kg category. Below, you can watch a short clip of Mirko's training a week before the competition, followed by a clip of some of his lifts at the Youth Olympics.Both Mirko and coaches worked really hard in the months leading up to the competition and in training Mirko had achieved 124kg in the snatch and 145kg in the Clean & Jerk.
Well done, we are all so very proud of you!
Looking forward to meeting up with the team again in a couple of months.

A long but incredibly successful day for my lifters at the London Series 3 today (in order of appearance):
our rising star Heath (U13) – 28/37
Seth (62kg- winner of group) – 80/96
Matt P-H (77kg- winner of group) – 100/120
Jenna (58kg) – 44/60
David (85kg- second in group) – 100/121
Doan (85kg- winner of group) – 103/116 (robbed off 120!)
Matt R (94kg) – 112/140
A massive well done to you all- you made me the coach with the most medals which makes you pretty effing awesome!
Looking forward to the next one.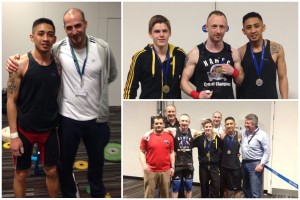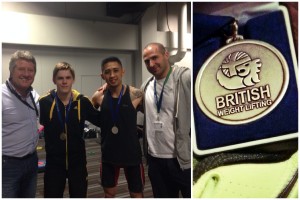 One of the better-organised BWL championships at the Ricoh Arena gave us all a lot to talk about this weekend. Nerve-wracking and exciting pretty much sums up the experience for Seth's participation in his first British championships.
Almost a year into training and a diet later, Seth took the first lift for the Men's 56kg category (and all men's groups of the day) but nerves kicked in and he missed it as well as the second attempt. While I was covering my eyes, I heard the crowd roar at his last attempt- 70kg snatch in the bag. Quick celebrations and a deep breath (for me- Seth was still shaking) and onto the clean and jerk with a first successful attempt at 85kg. Second lift beautifully executed at 90kg. A conservative 92kg third lift proved just a bit too much for such an emotional day but the silver was won with a total of 160kg.
I can't tell you how impressed I am with his performance and I know, buddy, that you wanted to and could do so much more but a competition is such a stressful environment. Lifting in the gym is so much different to lifting in a competition and no amount of training can prepare anyone for the big stage. The more someone competes, the better they get in performing well on the day. I am looking forward to next year when experience will give a little extra special push. And the platform will not look like a disco!
Congratulations to all competitors for a great weekend! Here's a short video of some of the athletes warming up in the training room (not enough space on my mobile to film everyone) and some of Seth's lifts.
Bethnal Green lifters- Joe, Alex and Calum- join my CrossFit Evolving students for a pre-British Championship session. Great atmosphere, some serious weights shifted, a 'valiant' effort at a muscle-up from Joe and an unfortunate tug of war for the BGers even with my help (or because of it?). Good luck at the British to Seth, Joe, Alex and Calum!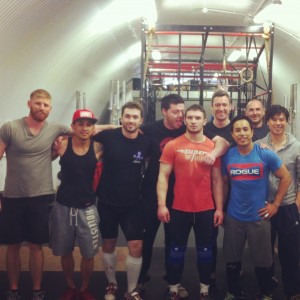 Here's a short clip from my last visit at the beginning of March (4 days before the Italian national championship). The level of professionalism from these young guys never ceases to amaze me so. As you can hear in the background, apart from weights hitting the floor, the only other noise comes from coaches' instructions. No chatting, no fuss, no dramas, no wild celebrations. They are there to do a job and given the little resources they have, I reckon they are doing a pretty goddamned good one! Besides making me feel old whenever I pop in to train 🙂
Thank you guys for always welcoming me and making space for me. You play a great part in making my stay in Italy a pleasure. Hope to see you again in a couple of months- keep up the excellent work.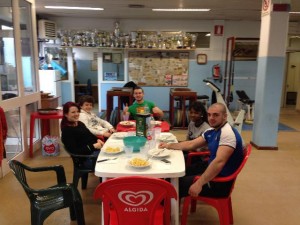 Here are 5 of my lifters from CFCL and CFE (Seth- 56kg / Chen- 62kg / Matt- 77kg / Doan- 85kg / David- 94kg) at this year's London Spring Open. Chen won his group, Seth took second place and qualified for the British Championships on May 10th and Doan achieved a bronze. Well done you guys, you all truly deserve it and thank you to Giles Greenwood for helping accomplish such great results.
Another great session with my young student, Heath. Keep it up buddy- you are doing so well!
Here's a short clip from today's training:Heath PB clean
'Your old coach preparing for the Masters 2014  this spring before 42 hits hard'
Snatching from low blocks, doubles up to 110.
Here is the link to the video:Low blocks doubles up to 110.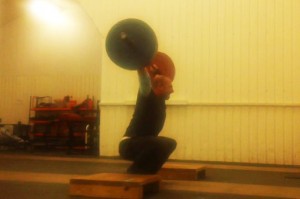 Almost 10 weeks into our program, Heath shows increasing maturity and consistency beyond his 11 years of age. His eagerness, attention and honesty is, to say at least, refreshing and I am learning from Heath as much as he is from me. It is very early days but I have a very good feeling about this.
Proud, excited and humbled. Amazing work, buddy.
Check it out:Video of 11 year old Olympic weightlifting training